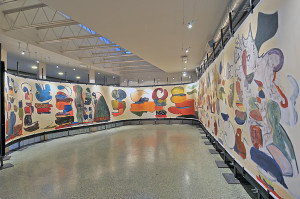 ---
The word 'chapel' may have different meanings for different people, but this Chapel is open to people of all religious and secular beliefs, free of charge, and full of art. Anybody can come and stay. Prayer, meditation, thought – whatever it is that you want to do in this space, it is a space created for the purpose of providing inspiration and comfort.  Here are some recent comments that were left in the comment box:
Visiting from CT for the second time with my Fargo friend.  Thanks for being here.  K and A.  May 2015
Awesome Place! Inspiring! Beautiful! Thoughtful! May 2015
What a glorious little surprise.  Thank you.  May 2015
I love the painting, I'm not sure it was your intent, but facing "in" I get the feeling of sitting in mass, or standing in a crowd.  Very cool.  J. May 2015
Hi, your art is absolutely beautiful. I loved the mix of colors that you used.  The chapel is a great idea.  Thanks for the great addition to the F-M Community.  A.
Amazing architecture and your paintings are beautiful. R.
This place is a true gift.  Thank you!
I've never seen anything like this! Thank you.  God Bless You.  Minister S.
What is this place?
Most interesting and impressive work.  Your colors composition and content is captivating.  Congratulations on this project and best wishes for your creative works.  R.S.
Very Cool!! Probably the coolest space in Fargo 🙂
I love the idea!  It is one I've never heard of before.  I've seen this building a million times and always wondered about it.  A lot of times, with art, you either love it or hate it, but being in its presence is always a joy.  Its peaceful and exciting at the same time.  I enjoy writing and am very excited to come to a place like this…and just be.  So for that I thank you.  Its a wonderful idea and beautiful space!  Thank you for a place and concept like this.  S.F.
Margie, Thank you, for the gift of time and space in which to replenish our souls, we are truly grateful. K.
Restful
Marjorie, Great place, wonderful art! K.
I like your place.  I think its a great idea.  K.D.
What magnificence! Thank you. C.M.
Thanks so much for doing this – I work nearby and appreciate the respite provided – calming on many levels… L.F.
The Chapel is open on an irregular basis for several hours every day. Feel free to return, this space is for you.